Mini-masterclasses on the use of WEST SYSTEM epoxy at the Southampton International Boat Show 2022
by Zella Compton Sep 1 6:00 AM PDT
Booth J401, September 16-25, 2022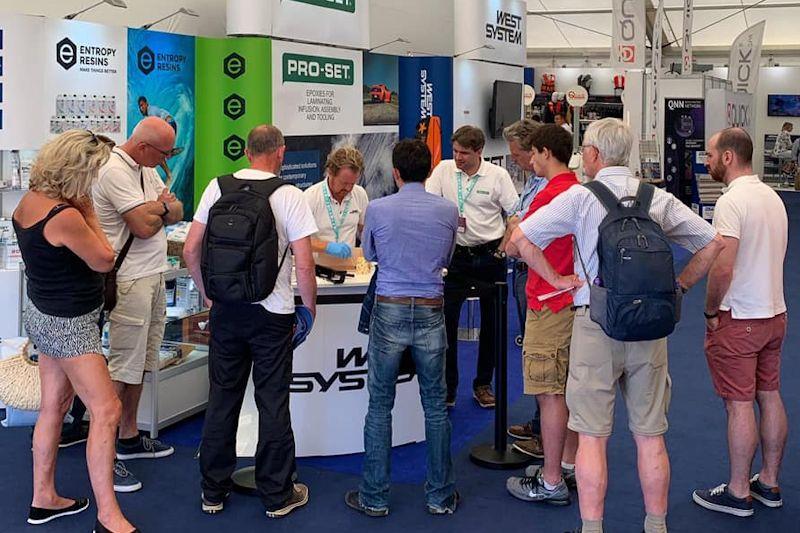 Demonstration of WEST SYSTEM products in action © Epoxycraft

Wessex Resins will hold daily product demonstrations during the Southampton International Boat Show at 12.00 and 14.30 each day. Visit stand J401, from September 16 to 25, 2022.
The mini-masterclasses will share the team's expert knowledge on getting the most out of the WEST SYSTEM range, how to use it and what to use it for.
Mini-masterclasses will be held daily at the southeast corner of Ocean Hall. There is no need to book in advance and masterclasses are free. Spectators should arrive five minutes early to secure a seat.

Mini Pack Demo 12:00 every day
Learn about two-step bonding, threading, sheathing, peeling and more. These are simple techniques for getting the most out of repairs and restoration.

Epoxy Specialist Demo 2:30 p.m. every day
Find out all about WEST SYSTEM specialty epoxy products such as G5, Six10, G/flex, 650 and others. These products work brilliantly on fiberglass hulls and provide excellent solutions for dents and scrapes and more.
This final session will also include advice on the use of WEST SYSTEM G/flex 655 which is a cured epoxy that creates permanent, waterproof structural bonds (and is now available in a ready to use, easy to use dual syringe) .
The team also welcomes any questions about the use of PRO-SET® epoxies for composite work and its bio-based ENTROPY RESINS®.
In addition to the mini-masterclasses, David Johnson (Sales Manager for Wessex Resins) will also appear on the Foredeck stage, talking about WEST SYSTEM's GRP Repair Kit. On Sunday 18 (12:00) he will explore WEST SYSTEM epoxies for GRP boat maintenance and on Saturday 24 (17:00) he will talk about WEST SYSTEM epoxies for GRP boat maintenance.
WEST SYSTEM products are widely used by the boat building – and sailing community. Wessex Resins has been manufacturing the epoxy and supporting its uses for thirty years.
"We really like meeting people at shows like the Southampton International Boat Show," says Ian Oliver, MD Wessex Resins. "Whether they are "veterans" who already use WEST SYSTEM products to repair or rejuvenate their boats, or they are new to epoxy and need specific advice on all the ways it can be used. "
At the top of the range, all Spirit Yachts use WEST SYSTEM products. In the case of Spirit, WEST SYSTEM epoxy plays a major role in structural integrity – they are constructed using a cold molding process over strip plank construction.
Custom boat builders also use it, such as Dan Lee, who built a gentleman's racing boat, using WEST SYSTEM products to bond his bottom to frames and round seams.
And then there are the many sailors who already wear WEST SYSTEM mini packs. These handy packs contain everything needed (resin, hardener, sealant, gloves, pots, syringes and more) to make a quick overnight repair at a regatta, whether for GRP or for use on a wooden boat .
"It fills me with pride," says Ian Oliver, "that the WEST SYSTEM range of products we manufacture in Romsey are used across the industry. And that the team here can – and do – advise sailors who want to fix a leak, or their rudder stock, to companies that build yachts worth hundreds of thousands and actually create their own epoxy wood composite structures in-house.
"All of these customers recognize that the WEST SYSTEM product line is unrivaled in what it offers. They also know that the team is always ready to share their knowledge and advice – regardless of a customer's level of experience. customer."
WEST SYSTEM epoxy was created by Gougeon Brothers Inc. in 1969 and since then the resin and hardener formulas have been continually tested and improved to produce the most reliable and balanced epoxy systems available. Wessex Resins manufactures WEST SYSTEM products under license from Gougeon Brothers in Romsey, UK.
Additionally, the company is well known for its willingness to share its knowledge. Whether projects are large or small, WEST SYSTEM's technical publications and videos provide step-by-step procedures and instructions for specific repair and construction applications: wessexresins.co.uk/support/how-to-use-west-system-epoxy