Flagstaff Marine exhibit at Sydney International Boat Show 2022
by Flagstaff Marine Jul 16 15:40 PDT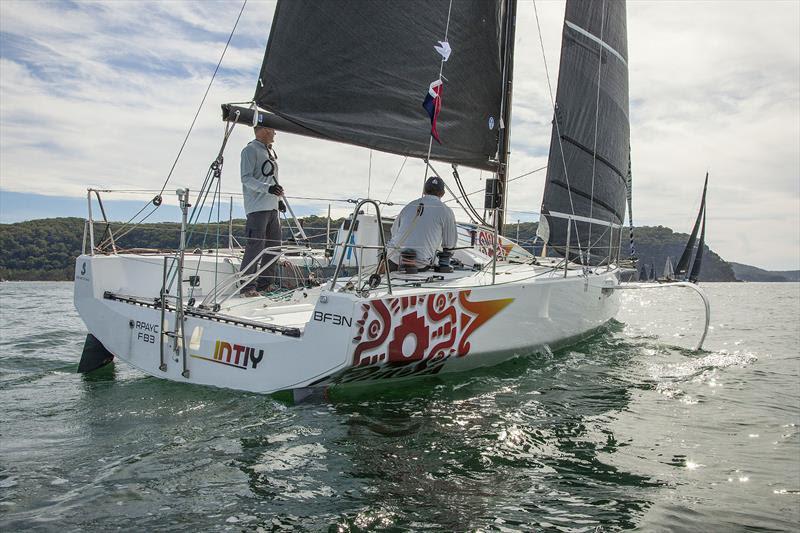 Beneteau Figaro 3 © Flagstaff Marine

We have Groupe Beneteau's new cat breed, Excess, and the glamorous NEW Oceanis 40.1/46.1 on display at Marina #129 that we would love for you to come and see.
We will present the latest updates to our exciting FIRST range:

Presentation of the Beneteau Figaro 3
This year we will also be presenting the Bénéteau Figaro 3 at marina n°129, the first production monohull with retractable foils in the world.
The BF3 is designed by world renowned naval architecture firm VPLP. Its one-design Figaro series is a test for both sailors and boats, as every year during European offshore races it proves to be an ideal training ground for skippers who have become renowned sailors around the world. and off.
The F3 is designed by world renowned naval architecture firm VPLP.
Held each year in Europe, the one-design Figaro racing series puts sailors and boats to the test and proves to be an ideal training ground for skippers who have become round the world sailors and offshore sailors.
Replacing the Figaro 2 which relied on water ballast, the Figaro 3 uses its 'mustache' foils to provide counterweight when righting. Coupled with its smooth hull, the Figaro 3 behaves magnificently downwind.

The new Excess 11 on marina #129
Our newest member of the Excess Catamaran range will be on display at marina #129.
Excess, the new award-winning Catamaran range from Groupe Beneteau, will delight you with its unique blend of design and performance. The entire Excess range (Excess 11, 12,14 and 15) can be viewed here.
This year we are delighted to have the Excess 11 on display at marina #129. This award-winning 38ft catamaran has the volume of a much larger boat and has already sold over 100 boats worldwide
It comes with the optional taller Pulse rig and is the ideal boat for those who love the feeling of sailing without sacrificing the comfort and space of a catamaran.
Designed by the highly regarded VPLP and interior design by Nauta, it's easy to see why this new addition to the Excess range has captured the attention of sailors, cruise passengers and journalists.

Glamorous NEW Oceanis 40.1 & 46.1 on display at Marina #129
The Oceanis 40.1 and its big brother the Oceanis 46.1 are two large cruisers that offer a new balance between elegance, space and performance to make navigation, cruising and life at anchor enjoyable.
This cruiser is designed by two world renowned architects, Marc Lombard (Oceanis 40.1) and Finot Conq (Oceanis 46.1), in collaboration with the Beneteau design team. They offer unparalleled interior space, a large deck plan and the ability to rack up miles of fast cruising passage.
Oceanis cruisers are perfect for families, couples and experienced sailors. These versatile cruisers adapt perfectly to the cruising needs of the most demanding sailors, while satisfying their need for comfort and sailing pleasure. For more details on these sailing sensations, visit here.

Unveiling of the new Amel 50 on marina #132
After two tumultuous years that have happily passed, the team at Flagstaff Marine have been busy selling five new AMEL 50 yachts. Three have already been handed over this year: one here in Sydney and two to Australians in the hometown of 'Amel, La Rochelle, France. The other two new Amel 50 yachts will be handed over within the next eight months to adventurous Australians planning to sail the Mediterranean, Atlantic and Pacific.
The Amel 50 is the yacht of choice for those owners looking for a safe and luxurious cruising yacht with its familiar fully protected center cockpit with electric navigation controls that allow short-handed cruising anywhere in the world. Amel only handcrafts 15 Amel 50s and four Amel 60s per year and has been able to maintain its high-end production without delay during the global supply crisis.
The Amel 50 and the Amel 60 have both been voted "European Luxury Yachts of the Year", along with many other distinctions.
To book a visit, visit here or call us on 1300 998 662.

Double winners
Flagstaff Marine was recognized at the recent Beneteau Worldwide Dealer Conference with not just one, but two awards.
We are very proud of our team, especially the after-sales and events team, who won the award for best customer service and event organization at the recent Beneteau International Dealer Conference in Athens.
Flagstaff Marine representative Micah Lane was on hand to accept the awards in front of more than three hundred global delegates.
Thanks to Beneteau for the recognition and support and a big thank you to all our customers.