Case Study: Different Metal Combination Keel For Modern Classic 68ft Cruiser / Racer
by William Souter, Marskeel Technology Sep 3 11:44 PDT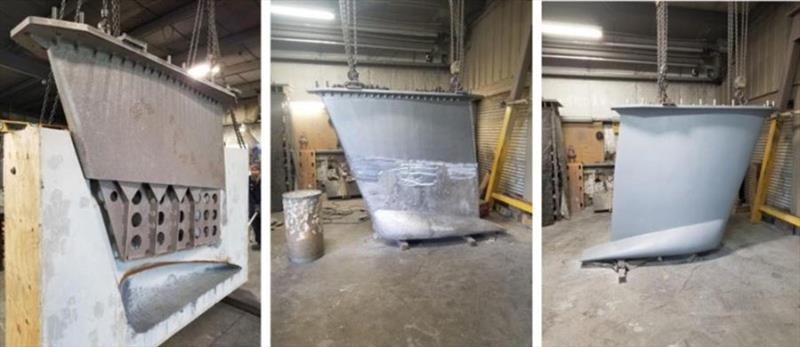 Different metal combination keel for 68ft modern classic cruiser / racer © Marskeel Technology
MarsKeel Technology recently supplied a different metal combination keel for a modern 68ft classic cruiser / racer working alongside American designer Stephens and Waring Yacht Design and boat building company James Betts Enterprises.
The keel consists of two sections. The upper section is a manufactured hollow steel keel fin (A36 / 44W) and the lower section is a molded lead bulb. The bulb is integrally molded onto the fin, which is a hallmark of MarsKeel. An Integrally Cast Bulb (ICB) simplifies bulb casting as no cores or holes need to be poured. It also eliminates the need for mechanical attachment to the fin.
It was a complex project due to the connection between the two materials. Through collaboration and using the combined experience of MarsKeel, designer and builder, challenges were overcome to create a safe and simple design.
The result was another great achievement for MarsKeel, working collectively with the designer and builder to create this incredible keel.
Read our case study to learn more about this project and the specifications.